Get Our New eBook
Beyond the DSP:
Why Its Time for Your Own Bidder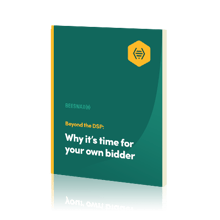 Today's consumer has more places to watch their favorite TV content than ever before. One of the newest ways they are watching is on free ad-supported streaming television, also known as F.A.S.T., a form of over-the-top (OTT.) Companies like XUMO, Tubi, Pluto and others are reaching consumers with news, entertainment, sports and more in an environment that mimics linear TV and is often built right into a TV manufacturer's interface.
Learn about F.A.S.T. as an advertiser and how to take advantage of this important, fast-growing channel.
Get Our New eBook.
"Beyond the DSP: Why It's Time For Your Own Bidder" white paper is the marketers resource for why and how to switch to a DSP you have complete control over. The Beeswax Bidder-as-a-Service is built for the control freak in all of us who wants to get more out of their programmatic buying. It's for those who aren't satisfied with the same toolset as everybody else, pooling data with everybody else, and settling for standard metrics. For the first time, you can actually own your own bidding platform that scales with your growth -- and remains fully yours.
Download "Beyond the DSP: Why It's Time For Your Own Bidder" white paper to learn how you can:
Use custom optimization to drive toward the KPIs that matter to you - not just clicks and conversions
Build your own walled garden with your supply and data (with no leakage)
Reach your audience without cookies or IDs
Pay for your bidder like it's software - not a tax on your working media spend