Check Out This Powerful Learning Tool:
A Guide To In-Housing Your
Programmatic Strategy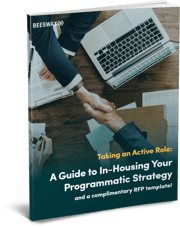 Today's consumer has more places to watch their favorite TV content than ever before. One of the newest ways they are watching is on free ad-supported streaming television, also known as F.A.S.T., a form of over-the-top (OTT.) Companies like XUMO, Tubi, Pluto and others are reaching consumers with news, entertainment, sports and more in an environment that mimics linear TV and is often built right into a TV manufacturer's interface.
Learn about F.A.S.T. as an advertiser and how to take advantage of this important, fast-growing channel.
Considering an in-house approach to your programmatic advertising?

In-housing is the latest trend in the ever-evolving programmatic ecosystem. It's our job as a platform that enables this strategy to help educate and guide you on whether it is the right fit for your business.

Our latest guide will provide an overview of what in-housing programmatic means, why it is a growing trend in the marketplace for sophisticated media buyers, and how to assess if its the right option for your business.