Don't Miss Our New Guide:
A Guide to a Shifting TV
Landscape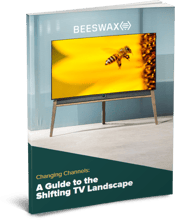 Today's consumer has more places to watch their favorite TV content than ever before. One of the newest ways they are watching is on free ad-supported streaming television, also known as F.A.S.T., a form of over-the-top (OTT.) Companies like XUMO, Tubi, Pluto and others are reaching consumers with news, entertainment, sports and more in an environment that mimics linear TV and is often built right into a TV manufacturer's interface.
Learn about F.A.S.T. as an advertiser and how to take advantage of this important, fast-growing channel.
As viewers continue to trade in their traditional television sets for wifi-enabled, streaming devices, the opportunity for marketers and media companies to reach their target audiences with better, more relevant advertising is undeniable.

Our latest guide provides an overview of the shifting TV landscape and walks through the nuances of navigating this growing channel. Ultimately, the key to success lies in using programmatic to get the most of CTV's complex and fragmented environment. By working with multichannel partners that provide full data transparency, customization capabilities, and fair pricing models, sophisticated media buyers will be empowered to maximize the impact of their CTV strategy.